Roy is an amazing cat who loves to cuddle and go crazy playing with his toys! He keeps the other two cats I have on their toes. He is a wonderful addition to our family!
~ Carrie



Read all about our successful adoption stories! We love to hear your Happy Tails!
We love happy endings, especially those about the wonderful pets adopted from Precious Paws. We'd love to hear about how your adopted pet has impacted your family and found their forever home! Click here to submit your own Happy Tail!
Stripes picked me when I walked into Precious Paws! He meowed and reached out of his cage towards me. I decided he needed a friend and I chose Chessy. Chessy was shy and hid in his cage.
I ended up with 2 awesome cats that look alike but are not related and have totally different personalities.
Chessy is a lap cat that follows me around like a dog. Stripes is the independent type who does like some kitty lovins but on his terms of when and for how long!!
~ Bradley
Brandy is a very curious, adventurous, and cuddly dog. She was full of energy when we adopted her, but what six month old dog isn't?
Although, she has settled down a lot, she still loves her car rides, exploring, and finding new spots to sniff. She also became a big sister to her little human, and realized that it's hard to relax at times since her little sister learned how to walk, but she finds ways to tire her sister out.
Life is definitely not boring with Brandy, we love how excited she gets to go on a ride and her favorite thing ever is the treats from Caribou and pup cups from DQ!
~ Kayla



We adopted Ollie 4 years ago for my daughter.
Ollie was one of Emma's babies her name was tux at the time of adoption. She has help my daughter in so many ways, she is very loved. She is a a sweet loving kitty yet very feisty and vocal.
~ Michelle
Happy Tails:
Mabel, Ivy, and Silas
We came in for 2, and happily welcomed 3 sibling kittens into our home- lot's of laughs, sweetheart cats who love to explore, cuddle, surf the counters (working on it!), entertain themselves and us- all day long!
Even on the days when our constant mantra seems to be either, "get down" or "uh-uh!", we feel so grateful they belong to us.
~ Liz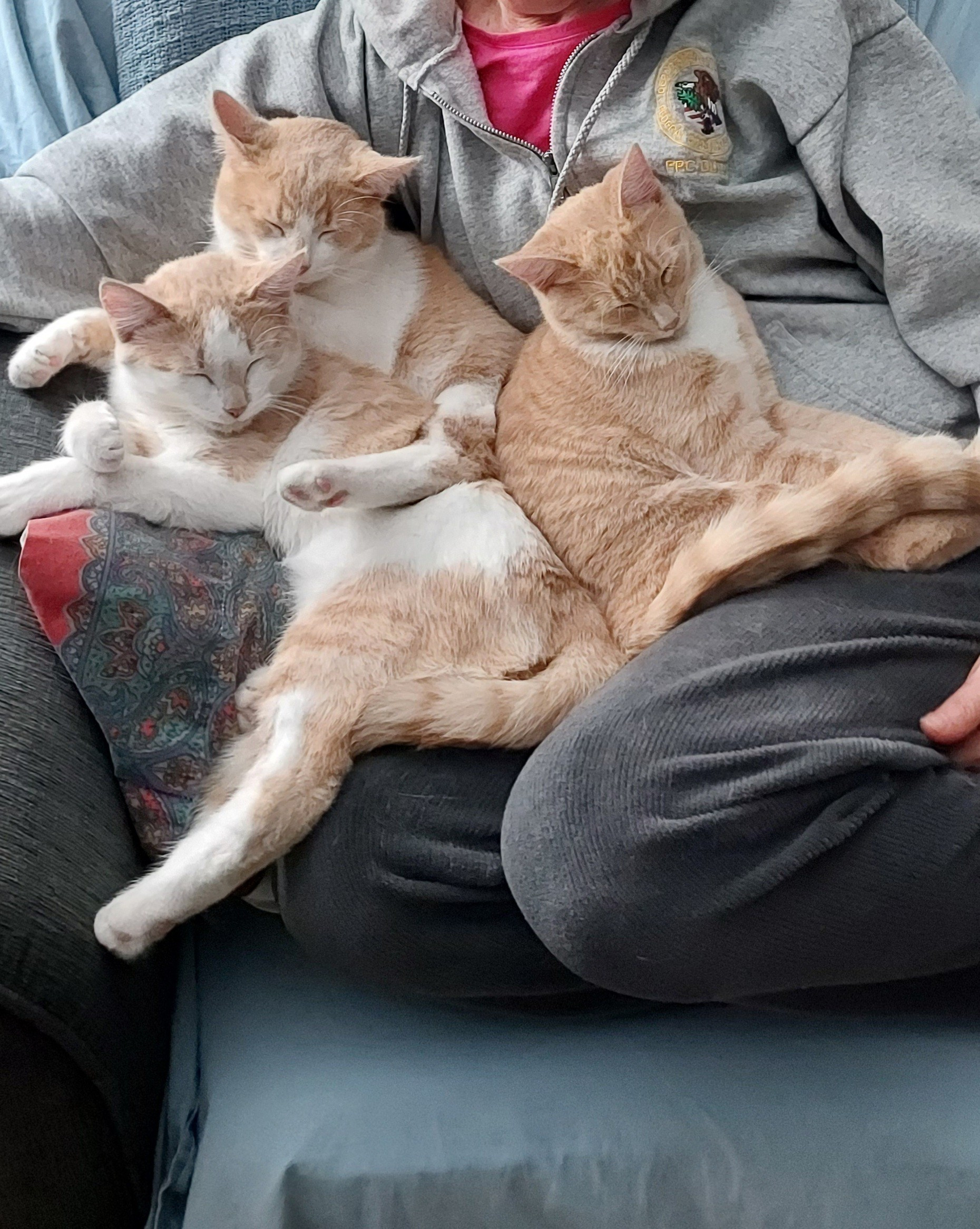 Happy Tails:
Betty & Veronica
In April 2021, I was fortunate enough to adopt 2 Siamese female cats from Precious Paws. Betty and Veronica were believed to be sisters, and were impounded during a law enforcement situation. While Betty looks very much like a seal point Siamese, Ronni has grown very long hair and has Siamese markings, but looks more like a ragdoll breed. We drove 4 hours from Alexandria to Chisholm to meet them, and DeAnn Abate was gracious enough to meet us on a weekend there. We fell in love with them, and they have been such a fun addition to our already busy pet household. My partner and I are both semi retired, so we love being very engaged in their daily lives.
While I already had 5 other rescue cats, DeAnn trusted that I was the right fit for Betty and Veronica, and for that I am very grateful. I was very saddened to learn of her passing in 2021; she was such a wonderful blessing to the pets that passed through the shelter there. Thank you to Precious Paws for the work you do to shelter, protect, and adopt those pets who need your love and support!
~ Coni